The 10 Best Pit Bull Stories From 2017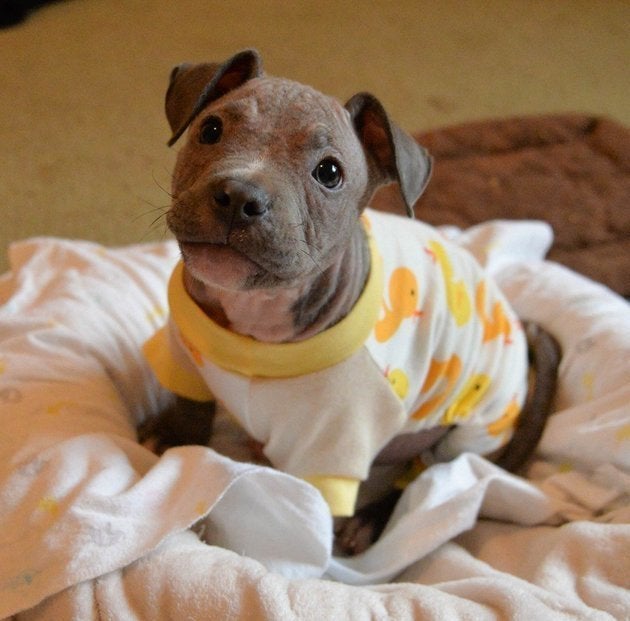 Our favorite pit bulls of 2017 are an incredible lot.
They've overcome abuse, they've cavorted with rock stars, they've worn pajamas and they've raised a whole lot of money to help others of their kind. These dogs are goofy and wonderful and inspiring. But, sadly, it was tragedy and injustice that brought many of these dogs to our attention.
So here's a goal for 2017, dog lovers: let's do our best to get rid of the bad laws, terrible violence, and other rotten, preventable circumstances that made these pits suffer before their remarkable triumphs.
1. Ray The Vicktory Dog, Who Lived A Good Life And Made The World A Better Place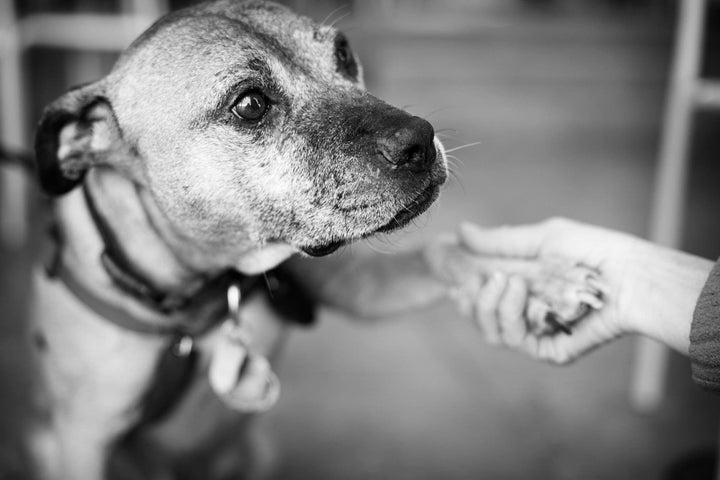 Ray is one of the 51 pit bulls who was rescued out of Michael Vick's horrific dogfighting operation in 2007.
At the time, the standard outcome for dogs like Ray would have been euthanization — it was thought these dogs were too damaged and too dangerous to become pets.
Ray and the other "Vicktory dogs," as these survivors are known, were given the chance to prove otherwise. Their stories of resilience and love have inspired tremendous change in how canine cruelty victims, and pit bulls more generally, are treated under the law.
In May, Ray died of babesia, a devastating illness that's afflicted a number of the Vicktory dogs. His adoptive mom continues to fight for other pit bulls, and dogfighting victims, in Ray's name.
Precious stood by her injured owner while their house was on fire — then lost her home to a law that prohibits pit bulls in Prince George's County, Maryland, where she and her family had lived.
Precious is now up for adoption. Jessica Stuby, president of Babes 4 Bullies — the rescue group selecting Precious' new family — is speaking out against the unjust "breed specific legislation" that makes this undertaking necessary.
3. Caitlyn, Whose Mouth Was Taped Shut And Now Speaks For The Underdogs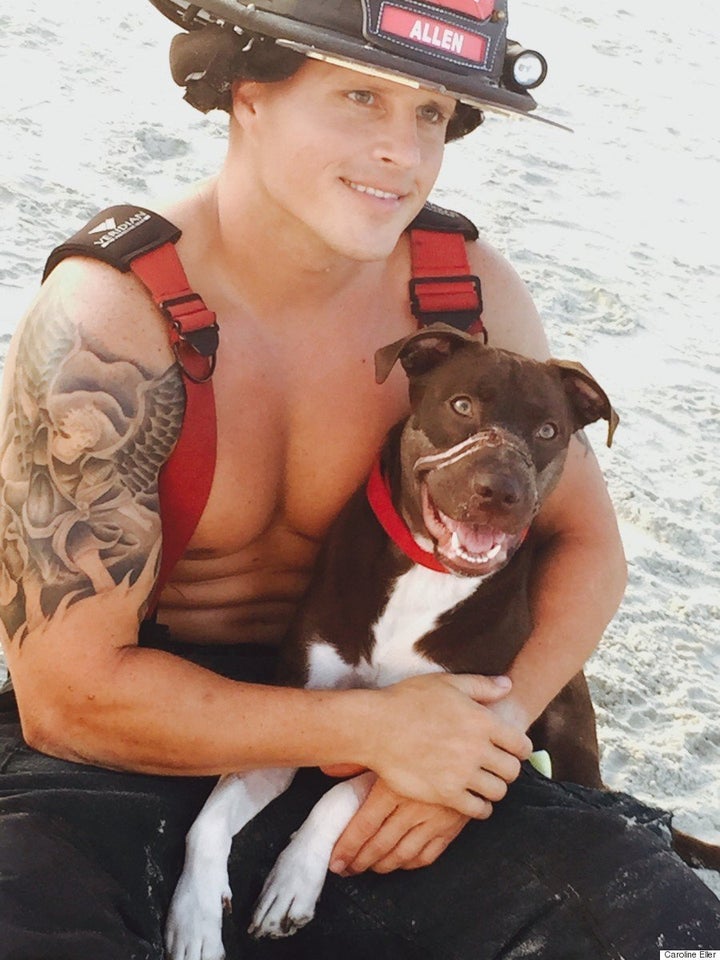 Caitlyn the pit bull was discovered with her muzzle taped shut in late May, in North Charleston, South Carolina. She was so badly injured she nearly died.
Thanks to the the tireless efforts of the Charleston Animal Society, Caitlyn lived — and thrived. Now she not only cavorts with shirtless firefighters and rock stars, she is also raising money and awareness to help other injured and abused animals.
4. Duke, Whose Adorable Shelter Video Earned Him A Ruff Over His Head
This guy literally wriggled his way into our hearts, and into a wonderful home.
Duke shows, in all his perfection, that shelter dogs are just as hammy and loving as any other dog — and they'll prove it to you, given half a chance.
 5. Khalessi, Who Lost Half Her Face To Abuse, And Gained A Whole World Of Love And Support
Khalessi's body was wrecked by abuse. Her rescuer, Passion 4 Pits president Stephanie Paquin, is getting the sweet, tail-wagging dog's face and legs fixed up as best as the doctors can manage.
Despite what she's been through, Khalessi's tail never stops wagging. And Paquin never stops advocating for pits.
6. Kiah, Who Became A Police Dog And Busted Some Stereotypes
This shelter dog made good, when she was selected to join the Poughkeepsie Police Department — becoming the first pit bull K9 in New York. Kiah now fights crime, and stereotypes about shelter dogs and pit bulls.
7. Aladdin, A Therapy Dog Who Makes Us Feel Great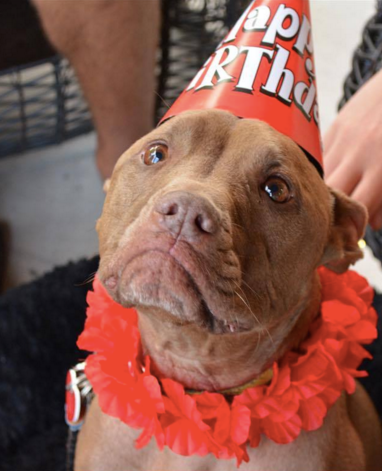 Laddie the therapy dog has had a busy, wonderful year, that we've loved watching.
He posed in a fantastic series of ads for Tito's Vodka, as a successful fundraiser for dog rescue groups, and met his guitar hero Slash. Aladdin also received a special proclamation from New Jersey state Sen. James Beach and the State of New Jersey for his service to others.
Not bad for a doggie who'd been beaten, starved and discarded by a previous owner before being recognized as a public treasure.
8. Olive, Who Waited 11 Years For The Right Home — And Then Found It, Big Time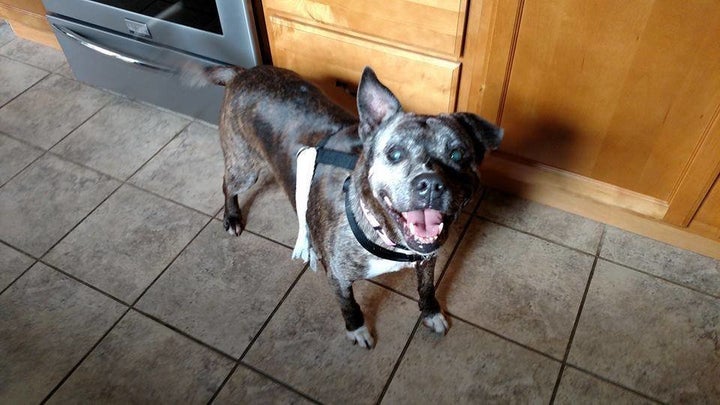 Olive spent 11 years — 11 years! — in the Yonkers Animal Shelter, before she was finally adopted in September. Now, Olive is getting spoiled rotten by her new humans and dog sibling, who were worth the wait.
 9. Isis, Who Protected Her Human From Domestic Abuse And Then Got Kicked Out Of Town
Jaimie Kraczkowski says her pit bull, Isis, protected her when her then-boyfriend became violent. Then the pit bull was kicked out of town, because Hazel Park, Michigan, where the two lived, had a ban on blocky-headed dogs.
Kraczkowski moved to a neighboring city rather than give up her dog.
This didn't sit well with the many folks who thought Isis should be honored, not exiled. Hazel Park scrapped its pit bull ban in May.
10. Sweet P, Who Wears PJs Like Nobody's Business (Except Possibly Her Foster Brother Ollie Knucks)
We first met this lovable nugget in the spring, when Sweet P was a brand new foster dog in Candice Miller's pit bull-full home.
We loved watching P romp with her canine siblings, often while wearing pajamas — and we loved it even more when she grew into a full-sized dog, and got adopted into the family for good.
There was nothing that could top this happily ever after — we thought! And then Miller brought home a new foster puppy.
A new foster puppy who made it out of a high kill shelter, despite having a bad skin condition. And whose treatment for that skin condition, thank dog, requires that he now don those itty bitty pajamas.
They're small PJs to fill, and Ollie Knucks, we are happy to say, is filling them just right.
Share on Facebook