Pit Bull Rescued From High-Kill Shelter Really Loves Snuggling, Especially With His Adoptive Dad
Beware the pit bull: he might sit on your lap and refuse to get up.Show up at one Wisconsin home, and there is a good chance that Kawi the doggie will make himself comfortable somewhere on your person."If you stop to sit, he is going to stop and sit on you," says Meaghan Graves, Kawi's adoptive mom. "He will snuggle with anyone who is willing to let him on their lap."The lap in question, more often than not, belongs to Graves' husband, Joel, who obviously doesn't mind Kawi's rather relentless affection.Click to Imagee!!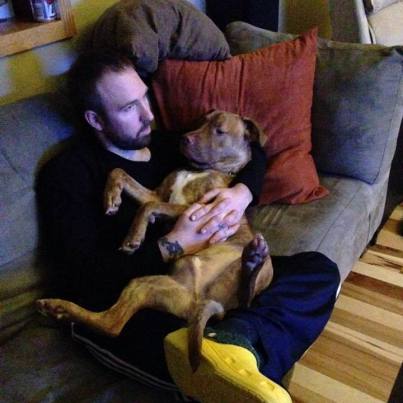 Photo: Meaghan Graves
Kawi came into the couple's lives about a year ago, after losing a beloved dog to an autoimmune disease.
Desperately lonely without a canine companion, the pair began their search for a furry someone to help fill that void.
They were especially interested in adopting a pit, since "we knew we could change some peoples' opinions by being responsible pet owners, and having a vicious pit bull that was only capable of licking and snuggling you to death," says Graves.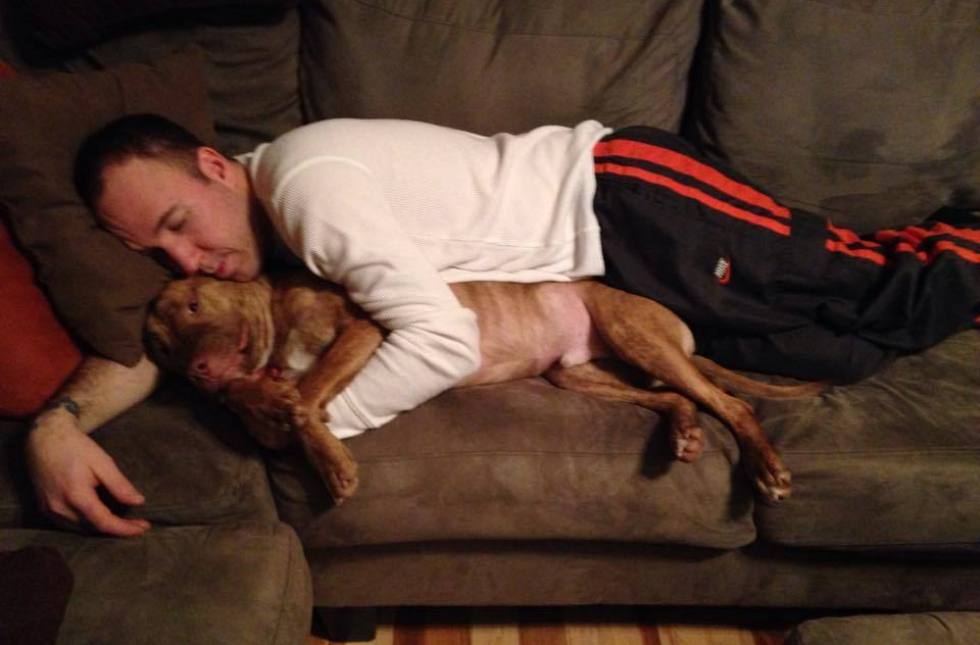 Photo: Meaghan Graves
Kawi was perfect for that role.
As a puppy, he'd been taken in by a rescue group, out of a high-kill shelter in the south. Kawi was still itty bitty when his then-foster mom brought him by the Graves' for a meet-and-greet, to see if he'd be a good match.
On that visit, Kawi sniffed every room, and executed some test nibbles on a few toys.
Then he "made himself comfortable on Joel's lap," says Graves. "I think Kawi knew he was the one for us before we even knew it."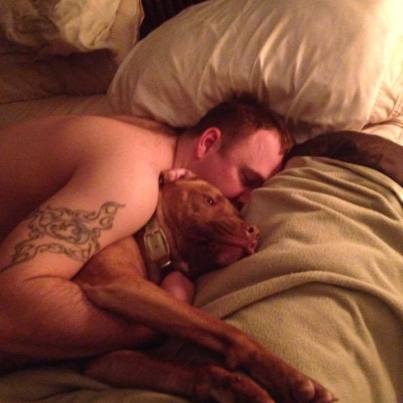 Photo: Meaghan Graves
Graves herself also enjoys some dog-on-lap time. As do Kawi's human grandparents, along with all the friendly folks Kawi encounters out in the world.
"He will cuddle with pretty much anyone who will cuddle with him," says Graves."For anyone who may run into us and Kawi, feel free to come say 'hi.' He loves the attention, and we love to educate on how great of a dog he is."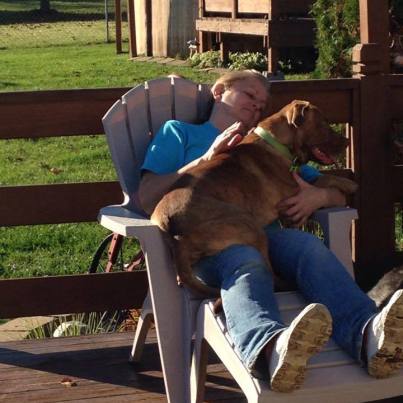 Photo: Meaghan Graves
Joel, who is already convinced that Kawi is a good boy, continues to be the dog's usual perch — except that sometimes the two take to spooning instead, or finagling into an even more pretzel-like position.
"They're always snuggling," Graves says, adding that she wouldn't have minded if Kawi was less demonstrative. But he is, and — you'll find this obvious, from the photos — she is completely thrilled about how things have turned out.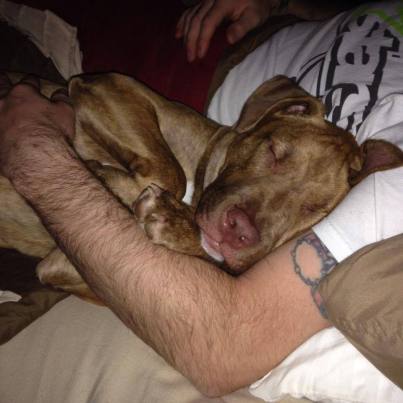 "Watching his sweet little eyes fade to sleep, and giving him unlimited kisses as Joel or I drift into dreamland, is the most satisfying feeling ever, knowing that this little pup is loved," she says. "Kawi doesn't have a miraculous rescue story like you hear on the news. But for us, he still had a journey, and he is now ours, and that is all that matters."
Share on Facebook